Other high quality Life Plus products are available to help you provide additional support to your immune and reproductive systems. Circulation Formula provides circulation support. You can't go wrong with any of these products, so try some today.*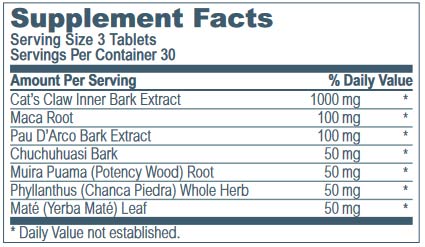 INGREDIENTS: Cat''s claw (Uncaria tomentosa (Willd.) Dc) Inner Bark extract, Dicalcium Phosphate, Maca (Lepidium meyenii Walp.) Root, Pau D'Arco (Tabebuia impetiginosa (Mart. ex Dc.) standl.) Bark extract, chuchuhuasi (Maytenus krukovit A.C. Smith) Bark, Muira Puama (Potency Wood) Root, Phyllanthus (Chanca Piedra, Phyllanthus niruri L.) Whole Herb, Maté (Yerba Maté; Ilex paraguariensis A. st.-Hil.) Leaf, Croscarmellose sodium, Microcrystalline cellulose, stearic Acid, PhytoZyme® proprietary blend (Bromelain, Papain, Alfalfa, Parsley, and vegetable and fruit concentrates from Blueberry, Carrots, Broccoli, Spinach, Cauliflower, Kale, Asparagus, Beet, Chili Pepper, Green Bean, Pea, Sweet Potato, Cucumber, Pumpkin, Snow Pea, Tomato, Watercress, Zucchini, Lima Beans, Mushroom, Banana, Cantaloupe, Cranberry, Guava, Lemon, Mango, Orange, Papaya, Peach, Pineapple and Grapefruit ), Magnesium stearate silica.
Store and keep out of reach of children. As with all supplements, please consult your physician prior to taking if you are pregnant or attempting to become pregnant, breast-feeding, under a doctor's care or taking prescription medication.

Lifeplus Cat's Claw Plus ™ provides 1000 milligrams of the important immune -supporting rainforest herb cat's claw (Uña de Gato), along with the synergistic rainforest herbs Maca, Pau D'Arco, Chuchuhuasi, Muira Puama, Phyllanthus (Chanca Piedra), and Maté (Yerba Maté).*
Formulated in the exclusive PhytoZyme® base of plant enzymes for bioavailability and over 30 synergistic fruit, vegetable and herbal concentrates for "extra" phytonutrient cofactors.
Allergy Information: This product is processed in the same facility that processes products containing fish/shellfish, soy and dairy.

This product was not tested on animals.

Suitable for Vegans
Gluten free
HOW TO USE CATS CLAW PLUS
Take 3 tablets a day. May take two to three tablets two or three times per day if desired.